Windhorse - Sacred Path Series
with Elaine Yuen
Coupon code: Q39PNK for 25% off program price only. Valid through December 6 with online registration.
Remember our Pay What You Can Afford Policy if the registration fee is a hardship - see below.
Participants receive instructions for "Raising Windhorse" -- designed to open the heart and gently access primordial confidence. An invaluable practice, "Raising Windhorse" encourages skillful and heartfelt social engagement, enabling the warrior remain open and vulnerable within any immediate challenge.
Prerequisite: Completion of the "Great Eastern Sun" Sacred Path level
Materials fee: The Windhorse source book - $15.

---
About the Director
Rev. Elaine Yuen, PhD, is an Associate Professor of Religious Studies at Naropa University. She is an interfaith hospital chaplain, and a Senior Teacher and Buddhist Minister serving Shambhala International in the lineage of Chogyam Trungpa. A meditation practitioner since the early 1970s, Dr. Yuen teaches meditation classes and workshops nationally and internationally. She has written and lectured on Buddhism, aging and meditation, contemplative approaches to chaplaincy, and religious diversity.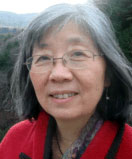 ---
About the Sacred Path:
The Sacred Path series deepens the warrior's journey by introducing the root Shambhala teachings and their commentaries. The teachings are based on a societal vision and aspiration to bring forth the goodness of human beings as well as the goodness of human society.
During a series of visionary experiences that took place between 1976 and 1980, Chögyam Trungpa Rinpoche wrote down the four root Shambhala texts. The Sacred Path is based on these texts. The Sacred Path presents extensive commentaries by Chögyam Trungpa Rinpoche and Sakyong Mipham Rinpoche on how these teachings are relevant in modern times.
*Our Pay What You Can Afford Policy:
In order to make our programs accessible to everyone, we have a "Pay as much as you can afford" policy. Use 50% of the program fee as a guideline, and pay more or less according to your situation. You can write in that amount in the "Notes/Comments" section when you register and pay at the first class. If you have any questions, please contact the registrar by email at [email protected].

For those who can offer more than the program price, we have a "patron price". Your generosity in offering the patron price helps make the generosity policy possible.