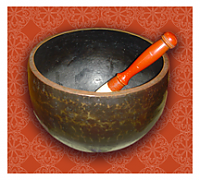 Staffing our Meditation Hall: Umdze, Host and Gatekeeper Training
with Jeb Stuart & Tiffin Vaughn
Curious about the role of the Umdze who leads sitting meditation, the person who hosts open sittings or who sits at the door to the meditation hall? Here's the chance to satisfy your curiosity, strengthen your meditation practice, and help others.
Without the selfless service of those who staff meditation sessions at our Center there wouldn't be an uplifted, inspirational space for all to work with their minds and hearts. Just as important, the training they've received bolsters and furthers their own journey on the path.

This morning training offers a window into the Shambhala Buddhist view, culture, decorum, and the various protocols of relating to and caring for the hall and shrine, the practitioners, and the general atmosphere.
For those who want to help as hosts and gatekeepers, the morning's training is sufficient to take on a shift, and you'll be finished around 11:15.

For those interested in pursuing the role of Umdze, the morning is a prerequisite to individual, in-depth training in leading chants and becoming adept in further specifics of that role.
If you serve as Umdze now, you'll learn of updated forms and decorum and refresh your practice, you'll be able to share valuable tips and experience and, most of all, your presence will engender invaluable cohesion, camaraderie, and inspire us to work as a team and get on the same page!

The program is free, and open to anyone who attends the Center.