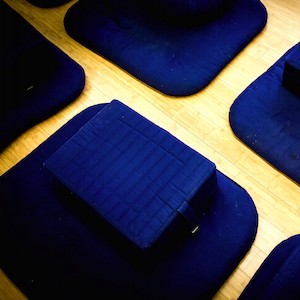 5th Annual Spring Weekthun - a city retreat experience
with Shastri Calryn Aston
Early bird coupon code: Enter VVUzJz when you register and pay online to receive a 25% discount through February 24.
* See our Pay What You Can Afford policy at the bottom.

5th Annual Spring Weekthun

Join us in a transformative experience!
We typically think of retreat as a chance to get away from everyday life, but what happens when we return to our busy, sometimes overwhelming routines?
Join us in allowing calm to return to daily rituals. Explore your inherent wisdom and kindness; reap and actualize the rewards of deep meditation practice; experience how sacred community can be created on-the-spot; welcome magic as it reemerges in usual surroundings; re-enliven the life you have - right here and now; and renew your appreciation for our bustling city.
No prerequisites: Open to new and experienced meditatators of any faith.

The weekthun includes daily shamatha practice, noble silence, discussions, study, participating in simple group meals prep, cleanup, and care of the environment. We will be doing a few traditional chants in English to begin and end each day.

Fee - $400 (includes lunch and dinner).
YOU MAY SIGN UP for 1-3 individual days, but only during the first three days (Saturday, Sunday and Monday). Orientation on Friday night is required for all. The cost for attending only the first three days is $75/day. To attend only the first three days (in addition to the required Friday evening), add a note under "Comments" indicating which of the first three days you plan to attend.

It is traditional to offer a monetary gift for receiving teachings and in recognition of the teacher's years of training and understanding. You'll have such opportunity towards the end of the program.
Lodging - For those from out-of-town, we will do our best to assist with lodging in a member's home. If you will require lodging, email [email protected], subject: Weekthun Lodging

For those meeting requirements for other programs - Participation in the entire week counts toward one week of dathün and fulfills a portion of group practice requirements for Enlightened Society Assembly and Shambhala Guide Training. Of course, you don't need to plan on attending these programs to join us.
Our Director: Shastri Calryn Aston
Calryn Aston (Boulder) has been a student of Sakyong Mipham Rinpoche since 1997. She has been teaching at Shambhala Centres across the Front Range and New Mexico since 2003. She hosts a weekly meditation group in her hometown of Jamestown, Colorado and has served as a director and meditation instructor for many regional and international Shambhala programs and classes. She is the mother of two adult sons and works as a journalist and coach. She is currently working with regional and international groups to integrate mindfulness practice in disaster response and resilience trainings.

Our Pay What you Can Afford Policy
To make our programs accessible to everyone, we ask that you pay a minimum of 50% of the program fee in order to cover related program costs. If you have questions concerning our policy, please contact the Registrar at [email protected] .
For those who can offer more than the program price, we have a "patron price." Your generosity in offering the patron price helps cover the costs for those who are not able to pay the full price.