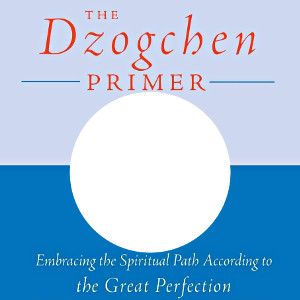 Dzogchen Primer: An (online) Book Study Group
with Sue Shapiro-Holleman
See our Pay what you can afford policy at end of this page.


​​We will be meeting online; please note that we will be starting Apr 7th and finishing on May 12th.
What is Dzogchen? Dzogchen, or the Great Perfection, "is a tradition of teachings in Tibetan Buddhism aimed at discovering and continuing in the natural primordial state of being." It "is the method of training of utmost simplicity in order to reach the most simple state" that is free from conceptual elaborations, intellectual constructs, and ordinary understanding. It is considered the pinnacle of the nine yana journey towards realization.
Like all journeys, the Dzogchen path starts at the beginning, developing the ground of understanding necessary to proceed along the path with confidence. The Dzogchen Primer, volume 1 of a series compiled by Marcia Schmidt, is a collection of short but significant writings by venerable masters in the Dzogchen tradition both ancient and contemporary. Included within the collection are teachings from Padmasambhava, Shantideva, and Milarepa as well as Tulku Urgyen, Khechen Thrangu Rinpoche, and Chögyam Trungpa Rinpoche. Topics in the text range from an Overview of the Path, Buddha Nature, Impermanence, and Refuge to the Two Truths, Devotion, Bodhicitta, and the Bodhisattva Vow. It is a collection designed to be a powerful introduction for new students as well as a deeper reflection for those who have greater experience.
The text will be offered in 2 parts, both meeting on Tuesday evenings from 7 to 9 pm.
Students are welcome to attend one or both sections. Please obtain the book in advance to do the first assignment before the class starts.
For questions, please feel free to contact Sue Shapiro-Holleman, study group facilitator, or Scott Kleihege, assistant facilitator, at [email protected]
---
Our Pay What you Can Afford Policy
To make our programs accessible to everyone, we ask that you pay a minimum of 50% of the program fee in order to cover related program costs. If you have questions concerning our policy, please contact the Registrar at [email protected] .
For those who can offer more than the program price, we have a "patron price." Your generosity in offering the patron price helps cover the costs for those who are not able to pay the full price.