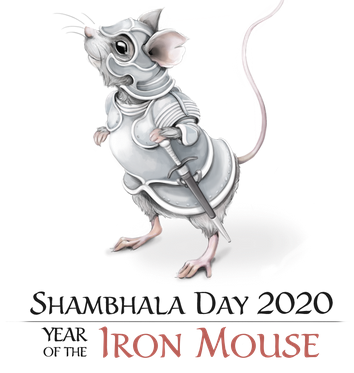 SHAMBHALA DAY - The Year of the Iron Mouse
Please join us on Monday, February 24 for any of the activities to further celebrate Shambhala Day and usher in the Tibetan New Year (Losar), the Year of the Iron Mouse. We begin at 7 am with a toast to the lineage (details below).
Shambhala Day is an important tradition to us, calculated astrologically according to the Tibetan lunar calendar.

We'll watch a worldwide, live broadcast from the Halifax Center in Nova Scotia at the Center at 11 am, which includes a slide show of photos from centers and groups all over the world.
On Shambhala Day we offer financial support to Shambhala Global Services. Click here for a comprehensive overview of the many ways they support the community. They rely on our financial support to offer these services.

You can donate ahead of time by credit card at https://shambhala.org/giving/. You can also leave your gift (cash, check or credit card #) in the donation box at the Center. Donation slips will be available both on Sunday, February 23, and Monday, February 24.

SCHEDULE MONDAY, FEBRUARY 24*
ALL ARE INVITED
7:00am Sunrise Toasts to the Lineage
7:30 Sadhana of Mahamudra
8:30 Breakfast at The Silver Grill (Dutch treat)
11:00 Live broadcast from Halifax Shambhala Center, including fundraising drive for Global Services.

** Because Losar is on a Monday this year and some cannot attend, we're pre-celebrating with a potluck at the center on Sunday February 23 at 1 pm. Gathering to share a meal helps us feel how our connection inspires, sustains and strengthens us.